Axel Obiger profile
"Axel Obiger" opened in september 2009 at Brunnenstrasse 29 in Berlin Mitte (Center) as a artist run space for contemporary art. In addition to dialogue shows and curated group shows, every year Axel Obiger presents a supporting program of performances, lectures, discussions and artist talks. Collaboration with guest artists and curators is one key aspect. In form of an open dialogue between a guest artists and Axel Obiger artists, various artistic contexts and methods of working are elucidated in order to intensify the exchange between different positions. 
In our group shows and open-ended experiments on issues such as burnout, sociological icons in body and language, consumption, authorship and identity. Axel Obiger is tracing scientific and cultural discourses.
Who is Axel Obiger?
Axel Obiger is a fictitious gallerist. The project-space "Axel Obiger" is an artwork itself, questioning role models and mechanisms of the art system. Alke Brinkmann, Thilo Droste, Juliane Duda, Nathalie Grenzhaeuser, Harriet Groß, Gabriele Künne, Matthias Moravek, Enrico Niemann and Maja Rohwetter are Axel Obiger.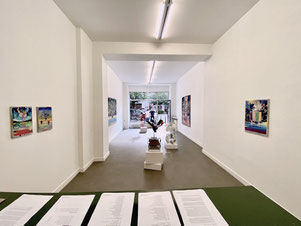 Dear visitor, 
we are pleased to welcome you in person at our gallery space, centrally located in Berlin Mitte. Welcome to Axel Obiger!
Please scroll down to have acess to all the artist portfolio download links: 
Alke Brinkmann · Artist Portfolio
_Alke_Brinkmann_2018_mod.pdf
Adobe Acrobat Dokument
7.6 MB
Nathalie Grenzhaeuser · Artist Portfolio
_Nathalie_Grenzhaeuser_web.pdf
Adobe Acrobat Dokument
3.8 MB
Gabriele Künne · Artist Portfolio
_Gabriele Kuenne_2018_mod.pdf
Adobe Acrobat Dokument
5.0 MB
Matthias Moravek · Artist Portfolio
_Matthias_Moravek_2018_mod.pdf
Adobe Acrobat Dokument
9.1 MB
Enrico Niemann · Artist Portfolio
_Enrico_Niemann_2018_mod.pdf
Adobe Acrobat Dokument
8.6 MB
Maja Rohwetter · Artist Portfolio
_Maja_Rohwetter_2018_mod.pdf
Adobe Acrobat Dokument
4.9 MB